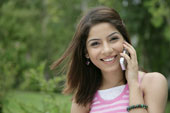 As Indian Retail sector tries to organize itself in verticals such as Apparels to Home Adornment, Mobile handset retailers are competing on thin margins with high volumes as well. Branded mobile stores now account for 15% of the handsets sold in India with the figure expected to touch 40% by 2010.
These stores are leaving no stone unturned to mature into the market of e-Zone or Reliance Digital. Hotspot, MobileNxt, Mobile Store etc which started as Mobile and Accessories retailers are now planning to stock laptops, iPods, Xbox etc.
Sanjeev Mahajan, CEO of HotSpot Mobile Retailer said,
Currently we are operating 350 stores all over India and will expand this to around 1,500 by the end of the year. Through our stores we want to provide our customers a complete package wherein they can shop for the latest technology in mobile handets as well as in laptop, cameras, iPods, and mobile movie viewing. We want to move from mobile retailing to technology retailing.
The story is the same at MobileNXT as its CEO, Vijay Menon echoed,
Since the margins from mobile handsets alone is not much, we are also offering products like iPod MP3 players and speakers also to our customers. We plan to introduce gadgets like camera and laptops sometime in the future.
MobileNXT took over a year to realize the potential of e-commerce as their website went live just last month. Univercell is the pioneer in Mobile Online Retailing after eBay India. At last we are moving towards the regime of Customer is the King 🙂