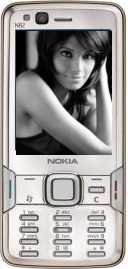 The much awaited phone from Nokia's popular N-Series, Nokia N82 is now available in India. It is a multimedia mobile phone like any other phone in the N Series optimized for photography, navigation and internet connectivity. The phone does offer photography enthusiasts an enhanced camera experience with its 5 megapixel auto-focus camera with a Xenon flash and Carl Zeiss optics. It also has GPS and Wi-Fi connectivity like your iPhone.
Mr. Vineet Taneja, Business Director of Nokia India said,
In addition to the high-end camera, the Nokia N82 also enables users to navigate and discover new places, enjoy their music, browse the web, play games, chat online and be part of the global web 2.0 community wherever they go. Thanks to the wireless broadband connectivity, convergence and its increased performance, the Nokia N82 is all people need in their pocket!
Overall N82 is a candy bar design, with a large 2.4inch LCD QVGA (240 x 320 pixels) TFT color display with up to 16.7 million colours. N82 comes loaded with Nokia Maps software, and is supplied with trial voice-navigation software in the box. 3G complaint with Video Calling and Bluetooth for short range communication and micro USB for PC connectivity.
Nokia N82 has 100 MB of built in-memory and a 2GB micro SD Card powered by Symbian OS. Suggested retail price in India is Rs 27,999.