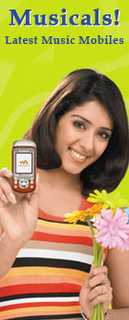 Hats off to the Indian IT and Communications Minister – Dayanidhi Maran. First it was Nokia which was given the facility to setup a manufacturing hub near Chennai. Close on the heels of Nokia shipping its 20 Millionth phone from the Chennai facility, Motorola announced a massive $100 Million manufacturing and global R&D facility again in Chennai.
Now Sony Ericsson has realized that they just can't be out of the rat race and made an announcement just a while ago that they will manufacture phones in association with Flextronics and Foxconn – global manufacturing partners for Sony Ericsson. Sony Ericsson's plant will be located once agian near Chennai and its annual production capacity in India is expected to touch 10 million by 2009 said a company spokesman.
Sony Ericsson had a handset market share of 5% in India at the end of Q3-2006. Motorola displaced Sony Ericsson from number two spot mainly because of the success of its Razr phone.