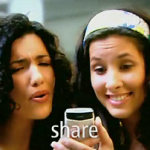 In-line with Global Practices, App stores offered globally by handset and platform vendors, telecom operators and others, Bharti's Airtel App Central was launched in Feb-10. Airtel Claims 2.5MM downloads in first month, 13MM in four months. Most apps downloaded are free (80-90% globally) .Small revenue opportunity for app store host as typically 70% share goes to the developer. We are of the opinion that Applications and other content to become conduit of advertising and we disapprove higher telecom operator market share to deter the spirit of Innovative Developers.
With reference to Advertising on Apps Platform, Airtel is of the opinion that Advertiser interest is increasing. Consumer reaction turning more positive: Ericsson survey found that consumers were receptive to m-advertising if relevance was considered. Handset vendor, telcos, equipment vendor, other service providers interest increasing: iAd platform, Nokia's proximity SMS, Google-AdMob, etc In the context of Advertising supported model, we believe that Large pre-paid price-sensitive base of Indian telcos attractive as freebies would be welcome for viewing ads. Telcos can leverage existing marketing plans, offer integrated billing for transactions, offer individual consumer for relevant advertising. Interest clearly increasing – sees forward looking telcos benefiting from the opportunity.
Mobile Payments – 46% of mobile subscribers do not have bank accounts: a clear gap to be addressed. Bharti offers Airtel mCheck – subs can pay own phone bill, others bill, pay merchants, etc. Nokia Money in partnership with YES BANK running a commercial pilot in Pune – transfer money to other, pay utility pills, top-up pre-paid SIMS, etc. We expect mobile payment system to take off in a big way especially for Micro-Payments. What say ?