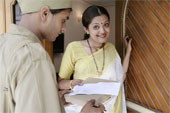 India Post which is here to serve the Public has taken a noble initiative by introducing SMS tracking interface for Speedposts. However, we register our objection to the premium SMS service which the Government undertaking has taken to serve the consumer as it will cost a whopping Rs 3 / SMS.
To track your Speedpost, send a SMS to 55352 in the following format
SPSpeed Number For example – SPSpeed EK381207108 [Omit the IN]
To track EMS by SMS send an SMS to 55352 in the following format
EMSSpeed number
Speedpost's track record, atleast in my experience is quite unreliable. Had booked a Document Packet to Mumbai and I don't understand from where did Rajkot come into picture when I was tracking the document online. [See Pic Below]


Online tracking of Speedpost is the best alternative today.