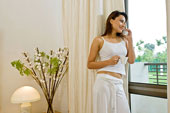 It is highly likely that Bharti Airtel will shift to Per Second billing as per whispers in the analyst circle. Overcapacity in urban centres has accelerated the dual SIM phenomenon, in our view, as new schemes have allowed for arbitrage opportunities. We believe that Bharti needs to stop arbitrage opportunities, and we would not be surprised if Bharti adapted to billing per second on a pan-India basis or go the RCOM way and lower tariffs on all plans to INR0.5.
A wait and-watch approach may cause a longer-term strategic disadvantage, as it would allow new entrants to build scale and make them eligible for additional spectrum.
Network Utilization Will be the Mantra: Various schemes in the market are allowing subscribers to avail themselves of lower rates on outgoing calls, and as such, traffic is moving away from incumbents to new players. New players following such a move would have limited room for rate cuts.
Finally, in the next 12-24 months, this would accelerate the cash burn of marginal players and could accelerate the consolidation process. However, any consolidation also would depend on spectrum reforms and regulators' approach to the process of allocation of additional 2G spectrum.