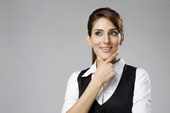 Since the economy is beginning to lookup, we would like to review who are the leaders in the Indian online market – especially with reference to Jobs and Property Classifieds.
According to Google Data, Naukri and Magicbricks are the leaders when considering unique visitors and page views. Here is how they stack up.
Online Job Search Portals – Data for Sept-09:
Naukri – 3.5 mn unique visitors and 120 mn page views is the undisputed leader in the market
MonsterIndia – 1.8 mn unique visitors and 45 mn page views stands second
TimesJobs – Last entrant but making good progress with 1.2mn visitors and 21 mn page views
Online Property Classifieds Portals – Data for Sept-09:
99Acres – had 520,000 unique visitors and 9 mn page views.
magicbricks – fighting close to 99acres with 570k unique visitors and 9.9mn page views
indiaproperty – distant 3rd with 350k visitors and 3.2 mn page views
The following chart shows the increase in number of unique customers [companies who pay naukri.com for viewing resumes] QoQ.