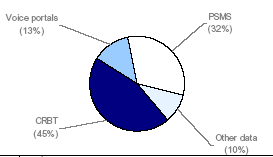 The value-added services (VAS) account for 8% of the mobile market's revenues in India, and non-SMS services account for 65% of VAS revenues.
CRBT (caller ring-back tones): This constitues bulk of the VAS market share at 45%. This is a popular service in which the calling party hears music chosen by the called party (instead of the ringing sound).

Voice portals: 13% market share. The fastest growing VAS service of all, this has in the last year, become as popular as CRBT. This service enables users to select music, jokes or other items of interest by dilling into an IVR.
Premium SMS: Second largest revenue contributor at 32%. This is distinct from regular SMS, as it is typically A2P (application to peer) and meant for use in real-time polling, interactive TV, consumer marketing and requests, etc.
Other data (e-mail, games, on-deck content): Users having phones with data capability (WAP and GPRS) can access e-mail and other content from their mobiles.