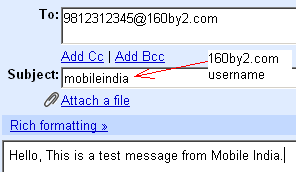 160By2.com the FREE SMS startup in India powered by Mobile Advertising has introduced yet another feature – SMS from E-mail to Mobile.
This is introduced after several Indian IT companies started blocking the website of 160by2.com. All you need to do is insert the recipient's mobile number in the "To" text box followed by your username in the "subject" and the content of the SMS in the body of the e-mail message as shown in the picture to your left.
Kindly note that message size is still restricted to 80 characters. The e-mail id from which SMS is being sent should be the sams that is available in your 160by2.com profile.
This makes it convenience for folks to keep in touch, however, you do not have access to the huge archive of funny messages that is available only on 160By2.com.