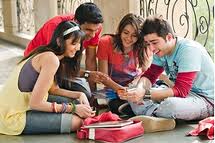 The aftermath of 2G Spectrum Scam, everybody knows that there are regulatory overhangs, risks and uncertainties in the Indian Telecom industry. We believe there are three critical metrics essential for a healthy growth – 1) Traffic growth 2) Revenue / minute and 3) Wireless margins.
Traffic Growth – In the Indian Wireless industry, the Customers Age on Network is one of the most important factor which shows his loyalty. Usage pattern of the vintage subs (more than two years in the system) shows that they are relatively less sensitive to changes in rev/min (read tariffs). In addition, it is also less susceptible to the vagaries of seasonality (Sep quarter sees muted usage trend). The monthly budget spend is sustaining well and even rising. We also see the fickle traffic trend of the relatively new subscribers who are focused on taking advantage of the price arbitrage
We see 6-18% volume growth over FY13-14E for Airtel, Vodafone and Idea given that the highest value lies with the already matured portfolio of customers where a natural volume expansion occurs. Dependence on newer subscribers is low – they, in any case, add lesser growth at lower profitability. 66% of the subs contribute ~80% of the revenues. ARPU hit the lowest of Rs 183, Rs 168 and Rs 155 for Airtel, Vodafone and Idea in the Quarter Ending Sept-2011 and since then has risen by modest 3-5%.
Data Suggests that Pure GSM operators score over dual technology operators. There is a clear divergence in GSM/dual technology operators KPIs. The sub behavior witnessed in case of GSM incumbents is less visible primarily due to distortion from free mins (has been reducing).
In the next article we will look into Traffic Growth and Wireless Margins.