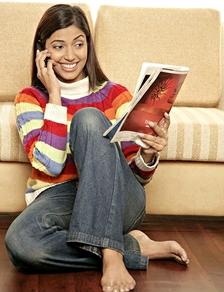 In our last Article we have educated you about the Mobile Traffic coming back on the growth chart. Today we'd like to walk you through the data on Revenue / Minute of various Telecom Companies operating in India and who have been favorable to let us provide data for the purpose of study.
The big question we ask today is can Wireless Revenue / Minute go up ? Immediately it maybe difficult but in the medium term the answer is YES!
Price Arbitrage – Telcos are still encouraging rotational churn, but this is aimed more at the lower quality subscribers. Favorable subscribers mix – 70% (for incumbents) are the relatively sticky, less price-sensitive mature subscribers provide a cushion against discounting.
Market Penetration Real penetration (~50%) still provides some incentive to grab market despite poor quality of incremental subscribers & high churn. However, as penetration inches towards the peak (~65-70%), it should make it increasingly less remunerative for operators to be aggressive. This is when Operators will reduce incremental incentive to grab market share.
Regulations / Sick Policies of Government With the ongoing regulatory uncertainty – whether the current capital costs come in or are lower – there will be a need to raise profitability. In a more consolidated & slower growing market, with less of a scramble for market share, the industry could effectively push for higher tariffs.
What is the key risk to higher Revenue / Minute ?
It is widely known that due to Spectrum crunch, some incumbent operators offloaded their 2G Voice Traffic onto 3G network. Currently 3G is yet to takeoff and this means operators have adequate network capacity which they could try and fill up with discounted minutes, looking at the investment as a sunk cost. However a high proportion of off-net traffic which entails payment of access charges for the corresponding usage should provide a disincentive to discounting.
Stay tuned for the next Article on Wireless / Margins in Mobile Services.