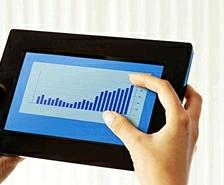 In our previous coverage of the Indian Wireless Sector we have already analyzed the factors that contribute to the recovery of Revenue Per Minute. Today we'd like to analyse factors that are critical for recovery in 2G Wireles services margins.
Network Utilization and Reduced Operational Expenditure
GSM incumbent operators – Airtel, Vodafone, Idea and BSNL are exposed to varying degrees of leverage depending upon their network scale / utilization. Airtel with a mature portfolio of circles, has a relatively lower leverage vs Idea / Vodafone, which still have some maturing circles. In addition, as the current suboptimal 3G utilization (10-15%) improves, it too will provide some margin kicker. Operating leverage in the past seven quarters has come almost entirely from network operating expenditure
Uninor vs RCom – Utlization Comaprison – Uninor's better network utilisation can offset a small scale. Data suggests that a comparison between Uninor & RCom – cost of producing / selling is similar. Uninor generated 27bn mins vs RCom's 103bn mins in Q4 FY12. Despite the difference in scale, the cost of producing / selling the min is similar i.e. 25p. The key behind this is Uninor's approach of a cluster strategy rather than aiming for a high geographical coverage.
Fall in competition improves Revenue / Minute
High competition hurts both revenue / minute (discounting) and costs (marketing spend). Idea Cellular's marketing spend (per min) has remained stubbornly high and has even gone up over the last 7 quarters. This is evidence of the high competitive intensity that is still prevalent in the market.
Recent margin expansion for incumbents has been essentially cost-led; and believe this trend still has some steam left. We analyze the telcos' operating cost (network opex) for generating one min over the last seven quarters. Network Operating Expenditure and Marketing Spend constitute 80% of the fixed cost for Telcos. Network Opex has dropped to around Rs 0.14 / Minute while Marketing Spend is between Rs 0.04 to Rs 0.05.
Thus if their are no Regulatory / Policy Hurdles, then it is very likely that Margins will expand by atleast 200bps for Wireless Service Providers in India.