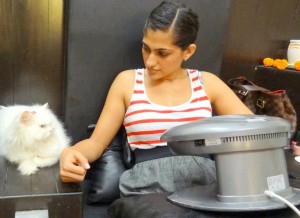 Microsoft has a cleaver strategy of focusing on Software titles, particularly with Kinect integration, and the expansion of the Xbox as full fledged entertainment platform. They have also announced new applications that would leverage the Xbox platform across the Windows ecosystem.
The Kinect Connecting Consumers
Microsoft has showcased a significant number of upcoming game titles that were deeply integrated with motion and voice-based functionality. We had a demo of FIFA 2013 where players can coordinate and execute plays with motion and voice controls in an overall seamless experience. You'll agree that Microsoft is late in the console lifecycle, innovations pivoting on Kinect should help drive further penetration into the installed base, broaden the demographic and attract new users which should help Microsoft manage the late console cycle.
The Big Entertainment Content Offering
Microsoft will broaden its entertainment offering, doubling the content available and adding an additional 35 content providers to its line-up over the next year. It is broadening its sports platform with NBA League Pass and NHL Game Center, complementing the UFC and MLB offerings. It will also introduce live programming from ESPN's networks.
Microsoft is Different – The company believes in the economics of the media ecosystem by requiring users to authenticate with their cable providers which is a win-win partnership business model rather than cord-cutting or going disruptive like what Google did to Newspapers and Hollywood Libraries.
XBox + Windows eco-system Leverage
Microsoft previewed Xbox Music service which is an application – all-in-one music service that will be coming to Xbox, Windows 8 and Windows Phone. The move confirms reports in the press that Microsoft will likely replace Zune products with the Xbox branding.
A new SmartGlass application that will allow users to share and engage with Xbox content and games across multiple devices and platforms, including potentially iOS and Android. The application will allow users to stream content from mobile devices to the TV, in addition to providing a "second-screen" for supplemental content while playing games or viewing other media.
Microsoft's Strategy – Open the funnel in terms of the level of interaction with entertainment, in addition to un-locking the Xbox platform and its content to a greater number of devices beyond the console that are connected to the user. Don't you agree ?