With the cannibalization of the Wireless SIM Cards in India, the number of connections at 664 Mn is a mere number and what matters most is the Wireless Revenue Market Share. Over the past 2 years, Government owned BSNL is the Biggest Loser followed by Reliance Communications. Idea Cellular, Voadafone India and New Operators have increased their market share.
The following Chart Shows the Latest Revenue Market Share of Mobile Operators in India.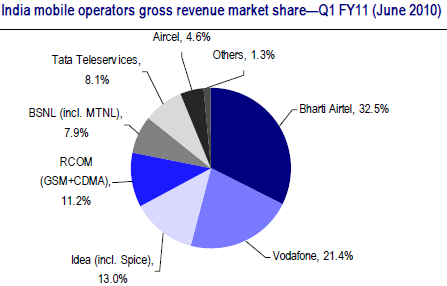 Bharti Airtel is the undisputed leader in India followed by Vodafone and Idea. They control 67% of the Wireless Revenues Market in India while the others simply have failed to perform / understand the Indian consumer or in case of Reliance Communications, it appears to us that Anil Ambani incapable of running the show doesn't even have the inclination in hiring professionals to run it. To prove our point, look at the Revenue Market Share for past 2 years and you will know why Airtel, Vodafone and Idea are making money at the cost of others.
The Chart below [expandable] shows Revenues of Indian Mobile Operators for the Past 8 Quarters,


Data suggests that the Mobile Business in India has reached a whopping $6.3 Bn / Quarter [1 $ = INR 45].