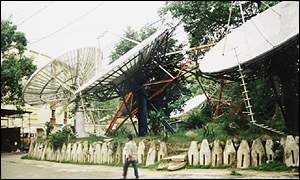 The GSM lobby is busy bargaining for cheaper 3G entry. Reliance humiliated by step motherly treatment from Qualcomm has thrown bids and applied licenses for 3G GSM spectrum. Enter, Cable TV operators who also want to offer Mobile TV and Broadband in India over 3G networks.
Zee which currently offers Cable TV(Siticable) and Direct To Home (Dish TV India) is the first cable operator to bid for 3G spectrum. They are of the opinion that more cable operators will join the bidding soon. All this implies that the government will be forced to auction the precious spectrum 🙂
In a related development, IndyaOnDemand a Star TV group company that has taken its content online to entertain the Indian diaspora around the world.
IndyaOnDemand.com is offering Kahaani Ghar Ghar Kii, The Great Indian Laughter Challenge etc for yout to download at a price. An episode of Kahaani Ghar Ghar Kii will pinch your pocket $1.99 which is extremely expensive. Come on guys talk in cents [less than a quarter] and watch your cash register ring.
Star has earlier offered mobisodes [Mobile Episodes / Clippings] of Kyunki Saas Bhi Kabhi Bahu Thi but wasn't very popular, once again due to expensive pricing.