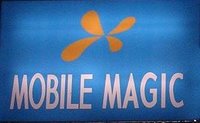 Branding and Retailing is the new buzzword in corporate India. After Bangalore based Mobile NXT, Pantaloon quietly ventured setting up ConvergeM mobile retail chain under the brand name M Bazaar, M Port and Gen M. It is now Essar groups turn to enter cell retailing.
Esaar Telecom has done due dilligence in association with KSA technopark and is willing to invest upto Rs3000 crores in 3 years. They will offer telecom handsets, connections, recharge vouchers, mobile accessories, after sales services, facilities for bill payment, gaming, mobile entertainment options, repairs and refurbishment.
Mr. Vijay Singh a NOKIA dealer from Mahrashtra who has grown his business organically and had a choice to expand in assocation with NOKIA or venture on his own. Vijay opted for the latter and started Mobile Magic, a chain of retail mobile stores which will offer Mobile Handsets and Accessories, Cellular Plans bundled with Value Added Services, Mobile repairs and software. Mobile Magic has also tied up with gaming companies to offer access to cheaper and better mobile games and is already operational in 34 cities. Mobile Magic also has an institute, MMIT – Mobile Magic Institute of Technology to train in mobile technologies.
All these stores means an end to your local mobile retailer After adding currency to my mobile, if I want the latest Halo-2 game do I need to look for the game retailer ? Gimme a Break!!!Companies such as Essar should plan to scale up their operation to the size of BestBuy or CircuitCity which is so essential for the Indian consumer. Size does matter in retailing 😉