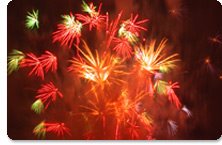 Indian's are choosing to shop and send gifts online rather than driving on pot-holed roads in city full of pollution like Bangalore.
In a survey conducted by IAMAI, Indians are likely to shop goods worth Rs250 crores this Diwali. Last diwali(2005) the figure was Rs115 Crores an increase of 117% over 2004 when the figure was mere Rs53 crores.
Lack of credible online retaliers and brands contributed to the dismal performance of e-commerce experience in India. However, from 2007, the figure is expected to grow exponentially as the Indian economic boom continues.