The Government of India has been successfully blocking Chinese Equipment being deployed in India's Telecom network by an indirect means of delaying the approval and certification of equipment indefinitely. This move follows a period of more than 12 months of uncertainty, in which the Home Ministry of India had raised concerns on security grounds, specifically about the possibility of spyware being embedded in Chinese network elements.
After the Chinese attack on Google and other corporates in the US, a high level team of technology experts who are functioning directly with Sr. Bureaucrats and some Cabinet Ministers cautioned the Government to keep Chinese hardware away, especially in Telecom Networks.
There is also a whisper in the Telecom Circles that government will issue an order that all existing Chinese equipment must be phased out in three years from now – though this, in our view, is too obvious to be likely.
Here is the Deployment Matrix of Chinese Equipment in Indian Telecom Networks.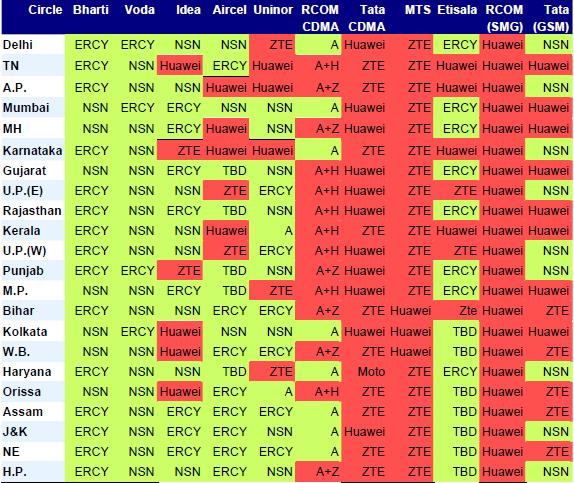 Bharti Airtel and Vodafone India have Nokia Siemens Network and Ericsson as their vendors in all their circles, which means they are not affected by any tacit clampdown on Chinese equipment. It's a bit less favourable for Idea Cellular. Reliance Communications, Tata DoCoMo, Uninor and Systema have all or the bulk of their capacities supplied by Chinese equipment makers Huawei and ZTE.