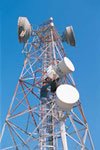 Indus Towers, a company jointly promoted by Bharti Airtel, Vodafone India and Idea Cellular is all set to be the World's Largest Telecom Tower company some time in 2009.
They already have 73,000 towers up and running and the number is likely to cross 100,000 mark sometime in Mid-2009. Indus 42% owned by each Bharti and Vodafone and 16% by Idea is forming a commercial agreement which will offer the right to provide tenancy slots to other upcoming wireless operators [new licensees] opening a new stream of revnue for the company.
Tower sharing also known as Passive Telecom infrastructure sharing was made possible under the leadership of former IT Minister, Dayanidhi Maran removing all the hurdles in the way. Indus is likely to deploy towers with an incremental occupancy of at least two anchor tenants, the company has an opportunity to become the tower provider of choice for most GSM operators in India. It is reliably learnt that Bharti and Idea are likely to start incorporating Indus into their financial disclosures from next year.