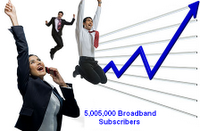 Small number yet great news to Indians. Just a while ago we got numbers from TRAI and broadband subscribers have crossed the 5 million mark – 5.05 mn at the end of Oct-08. This is a 100% rise in the number of subscribers between Oct-07 and Oct-08. India added more than 100,000 users in the month of Oct-2008.
Can India deliver the promise of the National Telecom Policy of achieving 20 mn subscribers by 2010 ? It is certainly doable if they grow at 100% over the next 2 years. We should really be thankful to WiMax the disruptive technology that can help the Government achieve this goal as they are going to remove the last hurdle in the way of Telecom Operators by auctioning the spectrum on Jan-16, 2009.
It is reliably learnt that Reliance Communications, Tata Indicom / Communications and Aircel [subsidiary of Malaysian telco Maxis] are going to bid aggressively to reserve a place for their wireless broadband spectrum. All the three operators are offering WiMax broadband services, of course they have some problems which need to be addressed. Maxis is a big wireless broadband service provider in Malayasia and doesn't want to lose this opportunity in India.
With falling ARPU in Wireless Services [Rs 271 / month], broadband internet [ARPU per month Rs 1,668] offering can continue to fill the coffers of Telcos provided they treat customers like king 🙂