The DoT has announced the time line for auction of WiMax Broadband Spectrum [20 MHz for 3 Operators, tentative] and 3G Spectrum.
Meet potential bidders on Dec-11 and Dec-13
3G + WiMax Spectrum pre-bid conference on Dec-19th
Last date for submitting applications to participate in the bidding – Dec-31st
Pre-qualification of bidders by Jan-05
First Phase of Auction on Jan-16
Second Phase of Auction on Feb-09
Hopefully, Telecom Minister A.Raja will not have any biased First-cum-first-serve rules in the auction process.
Update: Dec-12-2008. DoT has changed the Timeline for 3G + WiMax Spectrum Auction and is as scheduled below.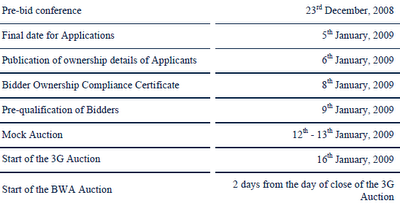 Earlier this year, in a major setback to the three big telecom operators – Bharti Airtel, Vodafone Essar and Idea Cellular – anti-monopoly watchdog MRTPC issued "notice of enquiry" against them for allegedly forming a cartel to distort competition. They had collectively raised the prices of NLD calls and SMS messages.
In a major development, the government allotted spectrum to new telecom players, with Shyam-Sistema becoming the first to receive radio frequency for starting CDMA services in various parts of the country. They have been allotted spectrum in thinly populated regions of North-East, Assam and Jammu & Kashmir.