Way2SMS is a really good FREE Web to Mobile messaging Platform in India [ Disclaimer – We use it regularly and are quite surprised by the Speed @ which they deliver our messages] Way2SMS has launched an innovative Advertising Platform and offering consumers Free Mobile Re-charge. [90% of Mobile users in India are on Pre-paid and hence Re-charge is applicable to them]
How Way2SMS Free Mobile Recharging Works ?
Based on Data Analytics of your Way2SMS Account, Way2SMS Algorithms push 2 Ads from its pool for you to look at when you log-on to the website. Now, you can share these Ads on Orkut, Facebook, Twitter, LinkedIn for your social network of friends. If your friends find that interesting and click on the same, then your account gets credit for the click. This way you can go on accumulating credits and once the amount reaches Rs 10, then you can re-charge from Way2SMS if you are using any of the following mobile networks – Airtel, Aircel, BSNL, Idea, Vodafone, Reliance CDMA & GSM, Loop, MTS, Tata DoCoMO.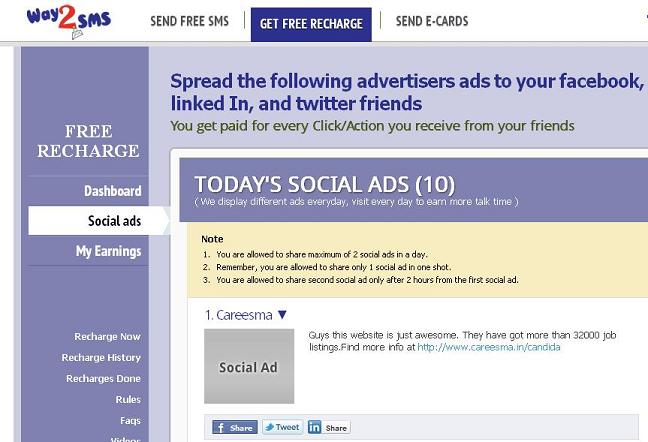 We feel Way2SMS Social Ads has the potential to grow if they can serve the right Ads 🙂 From an Advertiser's perspective, click is not the end result / metric, but even if the consumer is able to recall the brand while he is shopping then Advertising Team has done its job 🙂
Important lesson for Startups I bet Way2SMS would not even have dreamt about Social Ads when they started. However, they soon grew beyond their expectations and became a really big platform and thus they could en-cash upon the same today with this truly engineered product [Hope they are using Data Analytics very heavily].