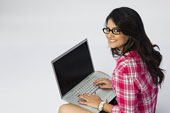 We analysed the results of Info Edge India Ltd for Quarter ending Sep-2011. Naukri.Com showing a solid 27% growth, 99acres.com showing decent though decelerating momentum with a 40% growth and Jeevansathi.com chugging along modestly with a ~6% growth.
The core Recruitment Solutions engine is showing signs of a pause as corporates postpone recruitment on the back of Governance Deficit and Scams in India. Management was more muted than last time, especially on the 99acres front where rising interest rates have led to a cutback in property listings.
In the context of Indian market, Naukri and 99acres continue to lead on the Number of Visitors front in their verticals, Jeevansathi remains in its #3 place in the Matrimony / Dating Space. Comscore has changed its traffic share calculation methodology from a panel approach to tagging approach – even with this new methodology, IEL retains its traffic share lead both in Naukri and 99acres.
Details of Total Number of Resumes and Customers on naukri.Com is available here.
Details of JeevanSaathi Matrimony Profiles is available here.
Inorganic Growth Avenue – Investment in Other companies – Investments in Mydala (daily deals website), 99labels (e-commerce for fashion merchandise) and Nogle Technologies (content aggregator) continue InfoEdge's inorganic expansion into new areas. The six investee companies delivered Rs230m in revenues in 1H12, but also brought about Rs140m of operating losses. While
revenues from them are set to double, losses will more than double in the near term as these companies scale up.