There has been a secular shift in the ad-spend mix, from traditional media to new media such as the internet. The resilience in online advertising growth is evident from the fact that internet advertising continued to grow during the 2008-09 slowdown in global economic growth, despite a global ad-spend decline.
Internet advertising is under-penetrated in India. In fact, internet advertising accounts for ~4% of ad-spend in the country, compared to 15% globally. The following Chart Shows how India Compares with the Rest of the World in Internet Advertising.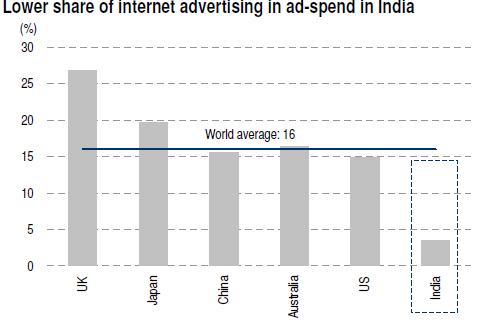 Internet ad-spend registered a 48% CAGR over CY06-10 to stand at 8bn, according to a report by Price WaterhouseCoopers. Yet, there is significant room for growth in internet advertising. The following Chart shows the Growth of Online Advertising in India over the past 5 years and how much market share YoY Online Advertising has occupied compared to the Total Advertising Market in India.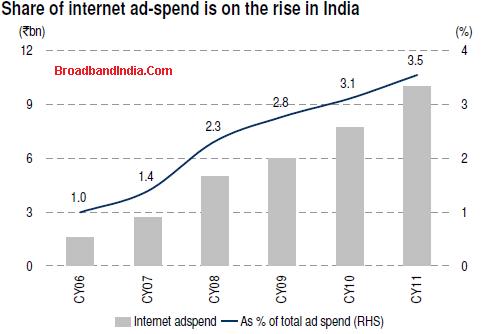 Internet services have not attracted as much attention and investment in the country, compared to other telecommunication businesses such as mobile-phone services. Active internet users are estimated at ~100m, which implies ~8% penetration. This compares with an active mobile subscriber base of over 600m (~50% penetration).
Investment by telecom operators in 3G and broadband wireless access, and rising affordability and innovation in access devices
(smart phones, laptops, tablets) have driven internet use in India. We expect this trend to drive the online advertising and classifieds sector well as other internet-based businesses. This is why InfoEdge India, leading Internet company has been consistently investing in Web Verticals such as Group Buying, Education, Local Guide, etc.