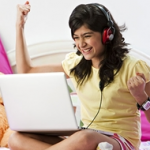 The number of users online in India in March-2011 is mere 42 Million, according to comScre. India's Usage Relatively Low Compared to Similarly Sized Countries.
Internet audience in India skews dramatically young: 75% of the web audience is under the age of 35, compared to 52% of the global average and 57% of the regional average. Males spend more time online than females in most age groups; the 35-44 year old age group is the exception: women spend 1.7 hours more online than males. A whopping 78 percent of web users in India used
online e-mail in March 2011. Only 14% of web users use personal dating / matrimony sites 🙂
Entertainment on the Web
Social Networking sites reach 84% of the web audience in India, and takes up 21% of all time spent online. Facebook is the most popular network in India with 31 Mn visitors while Google's Orkut just has half the number and declining. 77 percent of web users in India visited an Entertainment site in March. This category will continue to grow as broadband penetration increases.
Online Advertising
Online Advertising is all about measuring the effectiveness of the Campaign as this is the only Large Media where it can be done. You can target using the above metrics. Online advertising is effective, both as a direct response and branding strategy. For it to be really effective, Ad effectiveness needs to be measured "beyond the click" [could be Brand Building as well] and to implement this metric accurately you can touch base with Online Media Planners or Tools Provided by Giants like Google etc.
Younger consumers of India are leading this Internet revolution in India. Go Build your businesses and web services around them.