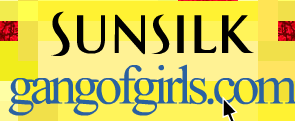 India's number one Social networking website, Sunsilk Gang of Girls has quietly launched whole new set of features for its members.
Some of the features that we reviewed and are really cool are the Astrology, Rhythm Lounge, Gang of Girls TV – GoG TV, and Hot Jobs. The Astrology section is powered by Astrolife and Jobs section is powered by Monster.
Can you imagine that this social networking site which boasts of half a million users has become the most popular platform amongst college girls in India ? Unilever's competitor, P&G has also launched a portal for Indian Girls, BeingGirl. However, when other social network startups like MingleBox and SaffronConnect are finding it hard to catch up with GangofGirls, BeingGirl maybe very soon shutdown.