Bharti Airtel today became the first operator in India to launch 4G LTE Services in Kolkata. The airtel wireless 4G LTE service breaks free of everything you knew about the internet. Features include – wireless and blazing fast High-speed mobile internet access with bandwidth up to 40Mbps. See on What all You can Experience with 4G
What is Airtel 4G LTE ?
Airtel's 4G LTE, or Long Term Evolution, is the latest (4th) Generation in Mobile Network Technology. Get speeds up to 100mbps while downloading, and 40mbps while uploading. Break free of buffering and waiting, and manifest your will online instantly and seamlessly. The internet will never be the same again.
How is 3G Different from 4G ?
Theoretically, 3G technology provides faster / higher data transfer rates compared to the 2G network (EDGE & GPRS).This technology can offer speeds up to 21 Mbps. An in case of 4G LTE, Data Downlaod Speed under Ideal Conditions can be as high as 100 Mbps. You can see the complete difference between GPRS / EDGE /3G and 4G here.
How to Access 4G LTE ?
Airtel is Offering Two Choices
Airtel 4G LTE USB Modems/ Dongle costing Rs 7999 [Quite Expensive in my view]
Airtel 4G LTE Indoor Wireless Gateways will cost you Rs 7750
Airtel 4G LTE Plans in Kolkata
Airtel has introduced the following 4G LTE Wireless Broadband Plans in Kolkata
breakfree     Rs 999     6GB Data Usage
breakfree max     Rs 1399     9GB Data Usage
breakfree ultra     Rs 1999     18 GB Data Usage
Fair usage Policy – Post prescribed Data Usage, the Speed will be capped to mere  128 Kbps
Airtel 4G Coverage in Kolkata is as shown in the Map Below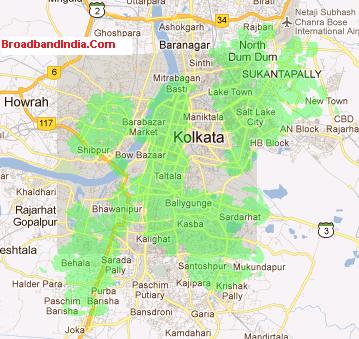 Airtel 4G Exclusive Gaming Site – According to one of the posts on our forum, Airtel also has 4G Exclusive Gaming site which is different from the existing one.
Experience 4G LTE in Kolkata – To attract Potential customers to the 4G LTE Wireless Broadband Platform, Airtel has setup 14 Exclusive 4G Experience Zones in Kolkata covering the length and breadth of the city.
For more information and connection establishment of Airtel 4G – Call 1800 103 0405