Tata Communications / Indicom [TCOM] intends to invest heavily in this segment. TCOM already has WiMAX connectivity on 3.3GHz band, and it intends to participate in the upcoming BWA auction. This would help TCOM bridge the last mile access as well as add muscle to its retail broadband services. TCOM currently has 220,000 broadband customers with ARPU's greater than Rs800 per month.
While broadband could be one of the growth drivers for TCOM, we believe that the competition in the space remains immense. Further TCOM would need to invest in service distribution capabilities. Also TCOM intends to participate in the BWA auction, and higher than expected cash outflow could put pressure on TCOM.
The following chart shows the rate of growth of subscribers with Tata Communications Broadband between 2007 and 2009. They have a pathetic 220,000 customer base. Tata Indicom WiMax has mere 35,000 WiMax Subscribers.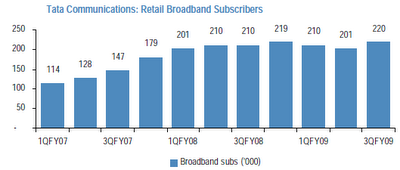 The following bar chart shows the variation in revenues of Tata Broadband Subscribers / Month.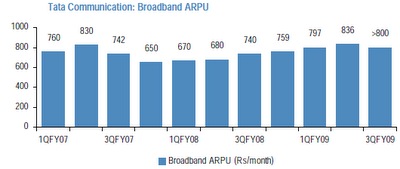 The company intends to participate in the upcoming WiMAX BWA spectrum auctions in 2.5 / 2.3GHz band.