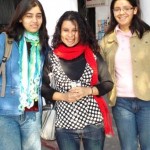 With 3G being launched in Most Tier – I and Tier II Indian Cities, we hot the road to understand the Wireless Data consumption. While at Delhi, we bumped into these 3 Girls, who were so addicted to their Mobile SmartPhones, they Surf while they Shop and Eat. Convinced by the way 3G is gaining traction, we spoke to Telecom Operators and her is the Key Takeaway on All India basis.
Smartphones in India on an average consume 200-250MB/month on plain-vanilla GPRS packages [2.5G]. A 3G enabled smartphone is averaging 400-500MB/month and a 3G tablet is at 2.0GB/month currently. The large GSM operators have 3G sub base of ~ 2.0-3.0m each as only around 5-10% of the handsets are 3G enabled.
One should note the fact that Tablets having made their first appearance in 2010 are witnessing data usage that is 5x that of a 3G smartphone.
Wireless / Mobile Broadband Data usage is however set to grow as
3G penetration increases
wider ecosystem for low-end smart phones/tablets comes into play and
new applications are developed [Specially Localized Ones]
Going forward, the launch of new low-cost smartphones and tabs could help sustain the uptake of data. Reliance 3G Tab and Beetel Magiq recently launched at an affordable Rs10-13k (vs. Rs26-35k for iPad/Playbook/Galaxy); with similar trends observed in smartphones (Micromax/Karbonn competing with iPhone and Samsung).
You can check out the ongoing 3G Data Tariffs in India of all operators here.