The decline in subscriber net additions partly reflects the conscious efforts of the telcos to eliminate wasteful SIM card sales (low revenue potential & no more spectrum allocation based on subscriber numbers) in order to reduce subscriber acquisition costs and preserve numbering resources.
Based on VLR subscriber-based subscriber base of 604m, India's wireless penetration stands at ~50%. This compares with 72% wireless penetration in India. We believe there is room for growth in active wireless subscriber base / penetration, especially from rural areas.
The following Chart shows Active Subscriber base for each and every Telecom Operator in India.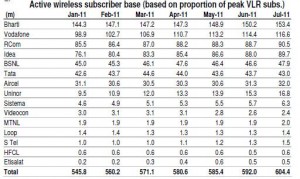 Vodafone and Idea accounted for the highest share of cumulative net addition in active subscribers (20% and 23%, respectively) over Jan-Jul'11, followed by Bharti (16%). Subscriber growth for Vodafone and Idea is driven by the entry into new circles over the last two years.