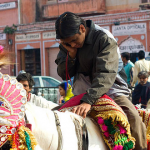 Indian Telecom Operators have seen sharp declines in Subscriber Net Additions in recent months, with industry net adds falling by nearly two thirds between January and August 2011. Adding to their woes is the Seasonality in Indian Telecom industry.
Indian operators are experiencing among the highest churn rates across the world. In our view, this induces a high degree of volatility into net adds (net adds = gross adds – churn). Other Factors that are contributing to the Falling Net Adds are,
A fall in gross adds due to changing operator priorities in urban markets where SIM card penetration is high (~160%)—from selling SIM cards to growing revenue earning customers.
A fall in gross adds due to seasonal weakness in the September quarter. Bharti Airtel's net adds fell 25% from June 2010 quarter to September 2010 quarter, only to recover completely by December 2010 quarter.
An increase in disconnections as operators focus on weeding out inactive SIM cards (in the wake of TRAI publishing active VLR subs data every month).
Finally, you must understand that the Sector's Secular Growth Story is intact and these are not indicative of a sharp fall but rather one of the ways of consolidation that will pick up steam further once the National Telecom Policy is rolled out.