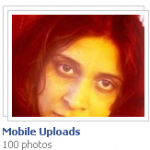 We present the highlights of the conference, which was attended by mobile operators, content creators and network vendors. 3G service in India is less than 12 months old and is yet to reach the length and breadth of the country. Penetration of 3G in India is around 2% and a typical 3G user in India consumes less than 5MB of data per day. Their are very few ladies like on the left who constantly use 3G network to update their Facebook Profile 🙂
Why Poor Offtake ?
The participants in the conference cited the lack of sufficient spectrum resources, inadequate network coverage, and the absence of massmarket affordable 3G handsets as the key reasons for the poor uptake of 3G services.
When will 3G Boost ARPU of Indian Telecom Companies ?
Most industry personnel felt that 3G services should boost overall customer spend or average revenue per user (ARPU). However, one participant opined that incremental ARPU would be significantly higher when a customer migrates from a feature phone to a smartphone than when one migrates from a 2G phone to a 3G phone.
Popular Applications / Content / Value Added Services
Astrology, Bollywood, Cricket and Devotion, collectively referred to as the ABCD segments of Mobile Value Added Services – could be successful. The above four segments cater to the interests of a large population of the country, and hence if available at affordable price points to the masses could trigger strong growth in data usage.
Speed Vs 3G Network Ubiquity
Telecom operators are currently promoting 3G services by emphasizing their superior data download speeds. However, ubiquity of access is seen as a far more important criterion than network speed to ensure good user
experience. This is because many of the popular applications in the market do not need high speeds, but only connectivity at all times. What do you have to say ?