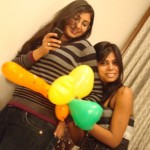 DoT's legal cell has been stating that 3G roaming agreements (between Airtel/Vodafone/Idea) are illegal. While their Administrative wing states,
Intra Service Area roaming in 3G network where one of the operators does not have 3G spectrum shall not be treated as spectrum sharing.
Airtel & Vodafone Argue,
as part of the pre-auction clarifications, DoT responded positively to the query about whether such agreements between telcos not having pan-India spectrum would be permitted. So DoT's case is currently weak.
We believe that while there are four slots of 3G per circle, all the top seven companies (Bharti, Vodafone, Idea, RCOM, BSNL, Tata, Aircel) are competing everywhere. In a non-roaming scenario, at the very least, competitive pressure will go down.
Most relevant players will become pan-India players over time. We expect more 3G spectrum to be auctioned in the next two years (up to two slots of 2x5MHz). Between such an auction and potential de-linking of license and spectrum (which should lead to spectrum trading), telcos will move to owning pan-India 3G spectrum instead of being content with intra-circle roaming. This will eliminate this controversy naturally.
Future Auction Price – In most circles, four (and in a few, five) 3G slots are currently in their hands. That leaves three telcos in most circles without 3G spectrum. If only two slots are auctioned, prices could again be high in a non-roaming scenario.
Bottom line, Government stands to gain by means of 8.5% Uniform License Fees on 3G Voice or Broadband Auction will bring smiles on the face of Finance Minister 🙂