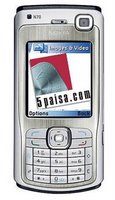 Just few minutes ago, I learnt that, IndiaInfoLine's 5Paisa.com, the pioneers in Internet stock trading in India at a brokerage of just 0.05% are now venturing into value added services on cell phones for their clientele. In a communication to the Mumbai Stock Exchange, they said,
"The Company will provide its customers with first hand information about their own stocks and account positions." Additionally, the client would also get Market Updates, Real Time quotes about scrips in his account and day-end net position.
They are also planning to launch Mobile Phone Based Trading and are waiting for necessary approvals from regulatory. I am pretty sure ICICI Direct will soon join the bandwagon of Mobile Trading.