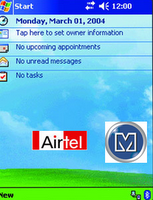 Airtel Mobile will introduce another value added service – Video Tones. This service is powered by, Migital. What can Video Tones do to you as a customer ? VideoTones will play a short video clip when you receive a call or a SMS. Just like how you customize a ringtone – one for your friend, one for your wife and one for your gf ;-), VideoTones can also be customized.
Hutch already offers this with Planet Hutch. You can download VideoTones from Nokia's Indian website. Also check for handset compatibility before you download.
In a related development, Bharti Airtel has tied up with Bubble Motion to introduce Voice SMS. What is Voice SMS and how does it differ from VoiceMail ? In case of VoiceMail, this is a feature enabled by the recipient and the caller leaves a message for you. In Voice SMS, the caller records and sends a personal voice message instead of the usual text sms. Reliance Telecom already offers Voice SMS but is not very popular. Neither is VoiceMail popular in India.