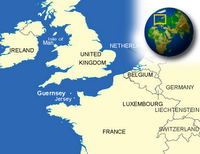 Just a week ago, fellow blogger at goBroadband, covering the "
Emergence of Asian Telecom giants"series had left us guessing which of the Indian Telcos would join the rank and file of Multinational Telecom Companies. ET reports that Bharti TeleVentures has won the necessary approval to be a Mobile service provider in "Guernsey" located in the English Channel, northwest of France. Along with Jersey, it forms the collective grouping known as the Channel Islands.
Through this deal, the bottomline of Bharti Airtel is unlikely to be enriched as the total population of Guernsey is mere 66,000 and the area of Guernsey is just 78 Sq Km(20 times smaller than Bangalore) What is important is that Indian companies are going global in search of growth 🙂
Excerpts from gobroadband,
"The edge Indian companies have over western telcos is the operational efficiency but severely lack in Research and Development of new technologies which may not be a critical/deciding factor".