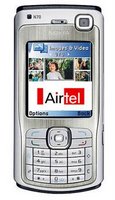 Bharti Airtel Limited is all set to launch Mobile TV in India on the existing 2.5G network using GPRS technology. Bharti is unwilling to wait for the lethargic Indian TRAI for auction guidelines and regulations on 3G. Bharti's group company Bharti Telesoft has tied up with UK based Vimio to enable live TV to be streamed on Airtel mobile phones in India.
Speaking on the development, Sanjiv Mittal, CEO of Bharti Telesoft told CNBC TV 18 that,
"What we are looking at is allowing live video broadcasts on the current network of GPRS and Edge on the current bandwidth of 2.5 G network".
Mobile TV service will be launched within 4-6 months and Bharti expects to have 50,000 to 100,00 customers within the first year of launch.