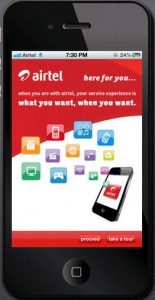 Airtel has been making the best use of IT and is always empowering its customers with the same. Just a while ago Airtel India has launched a Mobile app that will allow Airtel customers across various services – Mobile, Fixed Line / Broadband, DTH to check their outstanding bills, make payment, activate deactivate any service; raise service requests / complaints, at just a click of a button. Airtel Digital TV Customers can order Games / Movies using the same.
Download Location of Airtel myApp – Depending on the Platform of your SmartPhone, you can download myApp here.
Step by Step Iteration / Demo of Airtel India myApp
When the application is launched for the first time, the screen on your Left will appear. A brief description about the application along with two "call to action" buttons will be provided: The user can select the "Proceed" button to proceed further The "take a tour" button will help the user to get a hang of the application.
Step-2 With the "add airtel product/s" page, the user will be able to associate his/her mobile number with the application The second part of the screen will give a brief description of the tools and their usability. The 'about airtel products' button will introduce the user to a range of airtel products The 'take a tour' button will take the user to the 'launch help' section/ page.
Step-3 An alert will appear if no product is found associated with the number. Else go back to Step-2.
Step-4 on a successful authentication, user will be able to see a list of products associated with the number. By clicking on any of the product user will be taken to the respective product landing page. if user is unable to find any of his/her existing product on the list, he/she can select the option "add a new product".
Step-5
Landing page of postpaid – First part of the screen displays outstanding bill amount with pay now option and unbilled usage summary till today second part of the screen contain the entry points to the various activities like bill detail / manage services / service request / special offers / 3G airtel live
3G on Airtel myApp
You can check current 3G Plan, data limit, data used, data remaining and data usage rate per day. They also recommend best 3G plan based on your usage.
Airtel has done a commendable job, in our view by empowering consumer to manage services and plans using Airtel *121# Platform, Web Portal or now using the myApp.