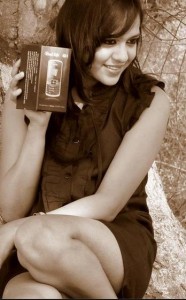 GSM 2G / 3G Wireless Service Provider, Idea Cellular thinks that the tariff pain is behind and expects stabilizing RPM. Even competitive aggression in terms of spend on commissions is declining. Idea believes declining net adds is not an indication of declining commissions as various factors influence net adds. The elasticity in the market is currently not greater than one implying a decline in tariffs is not leading to an increase in minutes. Idea therefore thinks that the incumbent aggression may not continue for a long time as elasticity benefits are not coming.
Idea Management thinks that globally, data subsidizes voice. However as voice tariffs are very low in India, data prices are unlikely to fall materially. Idea would like to retain its pan India status but if it thinks pricing in the auction is going high then it may not aggressively bid in the forthcoming Spectrum Auction.
Reliance India Mobile CDMA Voice Revenues Falling
At the beginning of this month, Reliance CDMA Division rolled out a Special Tariff Voucher which offers calls at 30 paise / minute. This is one of the Lowest Call Rates for a PAN India operator which signifies lot of unused spectrum with the company.
Operationally, voice GSM and non voice revenues have been growing for RCOM but CDMA voice revenues are declining. Management has reduced exposure to fixed wireless and PCO given the low returns. The impact of license renewal is minimal on RCOM in near-term as the cost of renewal in C circles is minimal. Even refarming would not have any major negative impact on RCOM. Capex requirements are expected to remain low for RCOM going forward as they have already invested in fiber (which their peers had not).