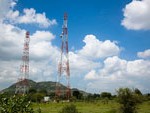 Daredevil new Telecom Operators in India are getting more prudent in running their operations by closing circles where it is impossible for them to make a headway. All operators are again warming up for a potential tariff hike post auction given the increasing pressure of focusing on profitability given rising fuel/power costs. Smaller operators believe consolidation and tariff hikes will be the key catalysts for the industry.
New Mobile operators believe that for potential M&A in the industry, spectrum is not the key driver but operational efficiencies are. The decline in 3G tariffs by incumbent GSM operators is pressurizing dual technology operators' 3G revenues. Small screen data is yet not picking up meaningfully. Smartphone prices need to decline to trigger the uptake as per operators.
Airtel's recent aggression is impacting new churn but not existing subscribers. In recent months, gross adds have flattened indicating subscribers are not churning much. Not many new operators have reduced / changed distribution commissions.
Telecom Tower Companies Hit
The fundamentals of the tower industry have deteriorated since license cancellations in Feb 2012 as operators have frozen intended capex investments. GTL is now adding 100-150 tenants/month vs. 1000+ before license cancellations.
3G also has been another dampener for tower companies given the slow uptake. Tower companies will only earn 10-30% more if an existing 2G operator launches 3G.
There remains limited clarity on if a 6% license fee will be implemented. However, management noted that operators are already paying the license fee and there could be some offset there. The new issue which is impacting tower companies is that the local authorities (state level governments) are looking to charge additional property taxes.