Bharti Airtel is on a Mobile App Launching Spree to stay close to consumers needs. Few days ago it launched the famous Airtel myApp for its customers to manage services across Mobile, Broadband, DTH, etc. Today they've launched yet another innovative mobile app Airtel SmartDrive. Bring an end to your traffic worries in Delhi NCR, Mumbai and Benagluru with Airtel SmartDrive Mobile App. Airtel SmartDrive will be launched for Hyderabad, Pune and Chennai by Dec-2012.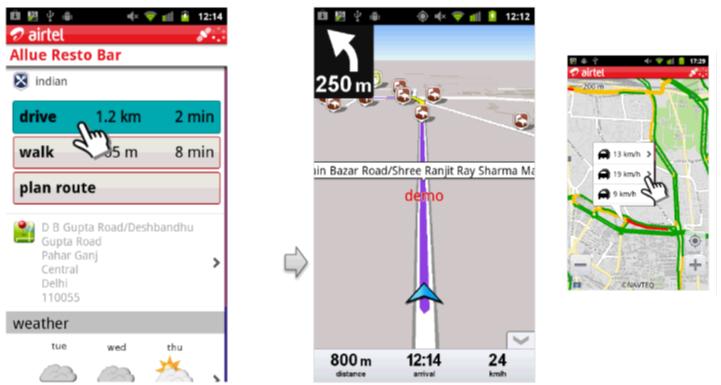 Airtel SmartDrive Handset Support
Airtel SmartDrive Mobile App currently supports BlackBerry and Android Platforms. Complete list of Handsets supported is available here.
Airtel SmartDrive Voice Based Navigation
Daily pack – Rs 10 per day for visitors to cities where the service is available
Monthly pack – Rs. 99 per month
Now, drive smart as Airtel has launched a new App that enables the users to view their location on a map and plan their route from one place to another. It is assisted by a voice based turn by turn navigation [similar to MapMyIndia.Com Device] and more importantly, give real time information on traffic situation on roads around them. What's more, it even suggests an alternate route from place A to place B if there is heavy traffic on the normal route.
Airtel SmartDrive Live Traffic Updates
Daily pack – Rs 3 / day
Monthy Pack – Rs 49 / month
Airtel is the first mobile operator in the country to bring such a product to its customers which gives real time traffic flow information along with other valuable information like – Search Maps for POI (Points of Interests), Live Traffic and Turn by turn Voice navigation.
The app gives traffic status on major roads in a colour coded format as described below –
Red – implying heavy traffic
Yellow – Medium and
Green – Free flow of traffic [Above Screenshot is taken from the App]
Free Airtel SmartDrive Maps
With SmartDrive you can easily search and get the exact positions for your destinations. Point of Interests (PoIs) are grouped into categories like restaurants, theatres, shopping malls etc. Once the application is downloaded this feature can be used absolutely free of cost.
Airtel SmartDrive will require GRPS or 3G Connection and Data Charges will be applicable while accessing the same. Other Maps available free of cost in India are from Nokia and Windows Mobile, Google Maps.