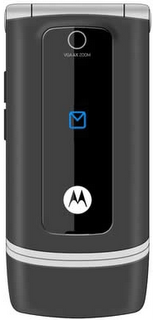 Motorola Inc is all set to launch the MotoFLIP W375 in India this November. The budget clamshell category has received a huge boost with the entry of the stylish MOTOFLIP W220 for just Rs 3,900 launched earlier this year.
The Good: The W375 has a larger 128×160 display, 1.5 MB of internal memory, MP3 ringtones support a VGA camera and USB connectivity support. It also has a FM Radio.
The Bad: The internal phone book seems to have been reduced to 100, which is quite surprising.
Motorola India which is competing with Nokia to win mobile handset market share in India had last month announced to setup a manufacturing facility in India. Just a while ago, Motorola has announced that their Indian facility will also manufacture GSM equipment and gears. This announcement may had to do with the recent inauguration of telecom equipment giant Ericsson deciding to setup a worldclass R&D facility in Chennai.
Motorola India has also designed a low cost mobile phone – Motofone localized to the Indian market including language localization.