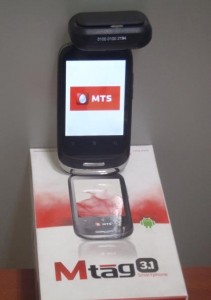 MTS Sistema has launched a truly Portable and Mobile Point of Sale System [MTS mPos] that can be carried with your mobile anywhere to conduct Credit / Debit Card Transactions.
As seen in the picture to your left, mPoS attached to a SmartPhone is a Portable Card Reader much like SQUARE Inc's Reader though little bit big in form factor. With MTS mPoS, home delivery based e-commerce / tele-commerce businesses have a room for breather as this solves the complex online payment problem and the courier company need not handle cash for expensive items like Watches or Mobiles. MTS Mobile POS can also be used by any SMEs and retailers like Hardware Shops, Neighborhood Grocers, Chemists, Ice-Cream Parlors, Restaurants, etc
MTS mPoS Step by Step Usage Guide for prospective merchants is made available here. The following Guide gives a true picture on the cost of deploying MTS mPoS for a Merchant. MTS mPOS mounted on MTag SmartPhone will use the underlying EVDO Network to talk to the Payment Gateway and process the transaction without storing any credit / debit card information.
MTS mPoS Pilot with FlipKart and Yebhi
MTS India has tied up with India's leading e-commerce retailers like Flipkart.com and Yebhi.com for a pilot project and will soon launch this service nationally. I tried to purchase an item on Flipkart.com but could not see any option of using Debit / Credit Card at Customer Premises, so hopefully Flipkart will roll this option of mPoS soon.
NFC (Near Field Communication) Vs MTS mPoS
Very soon all the Mobile SmartPhones will be enabled with NFC where in you can store all your Card Data and with just a tap make the payment. However, with SmartPhone penetration being tepid in India, MTS mPoS definitely has a potential to be successful in Indian Market.