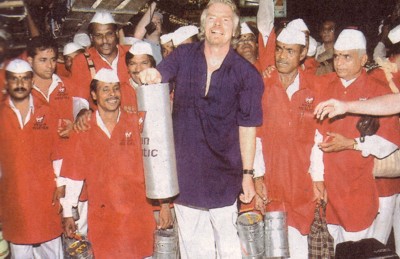 UK's Virgin group Founder and CEO, Richard Branson was very impressed by the business model and operating efficiency of Mumbai Dabbawallas [Lunchbox carriers]. However, Airtel didn't take it too long to realize how Richard Branson would use the Dabbawalla's platform to establish the presence of Virgin Mobile in India when MNVO comes into effect.
Airtel just a while ago announced that they have tied up with Dabbawallas to distribute Airtel Mobile pre-paid cards, recharge coupons and bundled handsets.
Manu Talwar of Airtel said,
The company is all set to leverage the large distribution network of dabbawalas to reach out to a larger consumer base. They are known for their honest, down-to-earth and gentlemanly nature.
So you never know how one established business model can be of use to another.