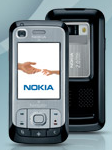 The Nokia 6110 Navigator connects in more ways than one. It has a built-in GPS application, you can easily find your way around when you get lost. A one-touch button also gives you quick access to local and overseas maps. Enjoy the fastest download speeds too with HSDPA to surf the web or access emails with ease.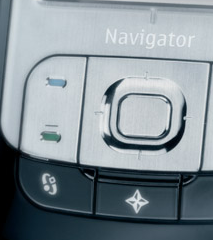 Nokia 6110 is a GSM / EDGE Quadband phone with S60 interface. It has a 2 Mega pixel camera with 4x digital zoom and also has video call and video streaming feature with a dedicated camera key.
It has an integrated FM Radio with Visual Radio support. It supports Mp3, Mp4, AAC as well as WMA and Flash. Stereo Speakers with 3D sound is really cool.
Navigation and GPS:
The coolest feature of Nokia 6110 is fully integrated GPS Navigation solution: Nokia Navigator application in device and navigable digital maps with points of interests in MicroSD card,
Integrated GPS, A-GPS OMA SUPL and 3GPP assistance. DVD including purchasable extra maps and mini-USB cable for map transfer in inbox Stereo speakers and Stereo headset with send/end, volume control, PoC and microphone mute function for good navigation guidance audio.
It comes with 40MB internal memory and 2GB expandable using microSD card. Battery life is expected to be 3 hours of talk time and Standby of 7 days.