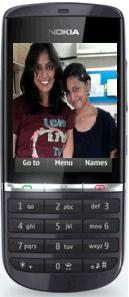 Beleaguered Mobile Handset Manufacturer Nokia has introduced Asha Series of Phones, specifically targeted at India. Running on S40, Asha adds all an all-touch user interface, addressing a short-term pain point. However, a number of needed enhancements are missing. While these enhancements seem likely to come through over time, this incremental improvement process may put additional stresses on application developers and sustain a lack of visibility into Nokia's low end roadmap.
Nokia Asha Series include full-touch user interfaces for the first time and are available at material discounts to Android phones ($79 – 115). The design and look of the UI also looks attractive to us and the product videos give the impression of a full smartphone type user experience.
What is the Negative Side of Nokia Asha Series ?
S40 Asha software strikes us as a stepping stone rather than a fundamental refresh. It feels as if Nokia has focused on a short-term fix that will be followed by a series of upgrades rather than one big fork-lift upgrade. This will lead to uncertainty and disruption to the developer community. For example, all S40 applications now need to be re-written to adapt to the new user interface. At some point this year further UI changes seem likely as Nokia integrates features from its SmarterPhone acquisition.
Nokia has also said that its Qt developer framework is to play a role in the company's next billion strategy – i.e. low end phone. Yet Qt is not incorporated in the S40 Asha platform. When it comes, this may again cause disruption to developers.
S40 itself, despite the re-writing that has happened over the past 12 months – may not be future proof on a 5- to 10-year basis. This means that a potential major OS refresh could be announced in the next couple of years. This might again prove disruptive to developers.
Nokia S40 Vs Android Phones – Price Point Discounts
Nokia may struggle to build a competitive eco-system around S40. We all know that many low end Android phones can't run all Android Apps and that S40 and Windows Phone do what they promise to do. However, consumers perceive all Android phones to be fully featured smartphones and S40 devices to be sub smartphone devices. If correct, then this invariably means that consumers will look for a price discount to Android phones to buy an S40 device.
With Windows Phone 8 (due in October we expect), the turnaround story at Nokia remains opaque for now.