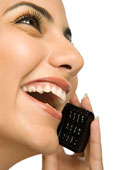 Reliance Communications has started selling GSM based SIM cards in Mumbai, primarily from its own Web world outlets. Each SIM/ connection costs Rs25 and comes with a six-month "validity" (i.e. incoming allowed without recharge commitment).
The details of the Package are as follows:
Upfront cost of the pack (SIM card) in Rs 25
Validity 6 months
Talktime (for local calls and SMS) Rs10/day for the first 90 days
Recharge commitment None
Local calls 1.00 / minute to any phone
NLD calls (top-up required) 1.50 / minute to any phone
SMS (local) Rs/SMS 1.00
Other features Unlimited free on-net calls [includes Reliance GSM + CDMA] within at night (11pm-6am)
In the long run, RCOM's prepaid package is not sustainable and hence GSM incumbents do not need to respond aggressively. We believe Reliance is just testing the network readiness with this pre-paid package.
Going forward, Reliance is likely to offer On-Net Calling FREE and hence when Mobile Number Portability comes into vogue, one can expect a big churn into Reliance if they have offer smooth migration and no billing complaints as was the case in 2002 when Reliance Infocomm was launched.