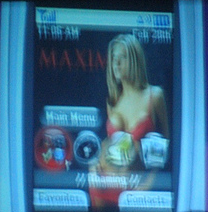 In race for Telecom bucks coming from Value Added Services, Tata Indicom is launching services ahead of Reliance Communications in the CDMA space. We saw Reliance Communications following into the footsteps of Tata Indicom on Monday when they launched Mobile Streaming Radio as well.
Just a while ago, Tata Indicom announced that it has tied up with Mast Mobile Media, a subsidiary of eMbience of San Diego to bring Interactive Mobile Advertising on Tata Indicom phones which are BREW compatible. However, Tata Indicom is few months behind Bharti Airtel which launched its Interactive Mobile Advertising platform in Delhi in association with Affle / SMS 2.0.
So what can Tata Indicom users expect from the new mobile advertising platform ? Tata Indicom's downloadable music, ringtone and wallpaper applications with Infotainment products are slated for mobile ads next quarter. Ads in Tata Zone's BREW applications support many "click-to" actions including interactive voting, free ringtone download, coupons, SMS and call.
Reliance ADAG changed its direction to focus on GSM. However, the GSM lobby is pretty strong and Reliance's PAN-India GSM may not come true until 2009 or 2010.