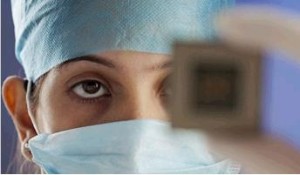 Most of the Android phones looked the same. In fact, phones from Huawei and ZTE were comparable with devices from the Tier 1 guys. Almost every OEM introduced a phone using quad-core. So let us look at which company's processors are powering your smartphones.
Broadcom was very confident about its positioning in mobile wifi versus Qualcomm. The company indicated that they believed they were securing 70% of the connectivity sockets in phones powered by Qualcomm's 8960 chip. However, broadcom has lost some market with HTC. This is how the following HTC Models are powered – One X (Tegra 3 + TI connectivity), One XL – (MSM8960 + QCOM connectivity), One S – (MSM8960a + QCOM connectivity); One V (MSM8255 + BRCM connectivity). We believe that only one of the four models is using Broadcom's connectivity. In prior models, we believe Broadcom had close to 80% share. Broadcom remains solidly positioned at Samsung and Apple. Broadcom is likely to gain market share at Nokia and possibly RIM and it would be an uphill task for Qualcomm to penetrate this market.
Qualcomm – Windows on ARM (WoA) is one of Qualcomm's bigger projects. The company is working on thin, light, always-on and always- connected devices using metro applications. Microsoft's announcement around WoA timing being consistent with Windows 8 was a big deal, according to Qualcomm, because it illustrated strong support for the WoA architecture.
Qualcomm's processor will be based on 28nm, versus NVIDIA's Tegra 3 on 40nm, and TI just started sampling 28nm OMAP5. There are architectural advantages, too. Qualcomm announced a Pro version of the Snapdragon S4 MSM8960 processor to enable mobile computing devices. The S4 Pro features the Adreno 320 GPU for much better 3D graphics performance. The quad-core MSM8964 will be commercially available before the holidays. We note that MSM8960 is already ahead of many SoCs on CPU performance as indicated by some third-party benchmark results.
nVidia It has announced that its quad-core Tegra 3 processor is powering the new HTC One X. The smartphone represents the first collaboration between the two companies. The device also has custom apps for music and Tegra optimized gaming. The HTC One series, including the One X with Tegra 3, will be available in April.
Intel The company has announced new partnerships with Orange, Lava and ZTE. Orange announced the first Android smartphone powered by Intel technology to be available this summer is based on Intel's reference design and is powered by the Intel Atom processor Z2460. Lava International, a fast-growing mobile handset company in India, launched the XOLO X900 smartphone based on Intel's reference design. Intel and ZTE announced a multi-year mobile device collaboration across smartphones and tablets. The first Intel-powered smartphone will be available in 2H 2012.
Intel's product roadmap shows Z2450 (Medfield) on 32nm shipping today. It is followed by Z2580 in 1H 2013 on 22nm that supports LTE. In addition, Intel will sample Z2000 (1 GHz), targeting the sub-$150 smartphone segment in mid-2012 with product launch in 2013.
And to conclude Texas Instruments is repositioning OMAP outside of wireless (industrial, surveillance, and auto), which could comprise more than half of sales in a couple years. While interesting, it begs the question of why can't these applications be addressed with a 32 bit MCU ?