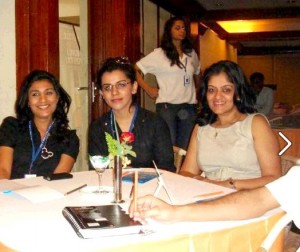 InfoEdge India's Naukri.com, job portal, is the dominant player in the Indian market and enjoys high traffic share and has a significant lead over the competition. The primary portal is supported by four other initiatives (online and offline), thereby creating a full service offering.
LinkedIn the Professional Networking Site has become a big hit amongst Job Seekers and Recruiters and is threatening the old ways of recruitment which offer Resume Bank without any innovative methods to engage candidates and recruiters. We'd say that Naukri's business is deteriorating due to rising competition from LinkedIn.
Comparison of Naukri to LinkedIn
The hiring activity in India declined by ~20%yoy in mid-08 at the time of the credit crunch, indicating corporates had stopped hiring and were instead reducing headcount. Let us take this Index as base 1000. The index has been above the 1,000 level since Feb 11 and closed CY11 at 1,072, indicating hiring has continued, albeit at a slow pace.
Compare this to LinkedIn's strong 120m members globally, with membership growth at a ~90% CAGR from 2004-2010. Its global member base is spread across over 200 countries and territories, with more than half of members coming from international markets. Aside from its robust membership growth, the platform's core user engagement metrics give it a strong competitive advantage.
LinkedIn does present a longer-term threat to Info Edge, but we believe that it is still small to make a meaningful impact. LinkedIn has ~13m users and ~1,500 job listings (Sep'11) for India compared to 28m resumes and 23,000 unique customers in the case of Naukri. We estimate LinkedIn's current revenues from India are ~10% of Info Edge's recruitment solution revenues. The network effect (traffic, members) and innovative recruitment business practices will be the key to contain the threat, in our view.